TIME: From 02.05.2022 to the end of 30.06.2022
LOCATION: GIFT EXCHANGE BOOTH – North Court (Opposite Texas Store) and Center Court (Opposite Innisfree Store) AEON MALL BINH DUONG CANARY
Shopping at the AEON MALL  there is nothing better receiving lovely gifts after downloading APP and also receive 20 welcome points when you register as a member on the APP.
From now until the end of June, coming to the GIFT EXCHANGE BOOTH to receive cute gifts at the shopping mall!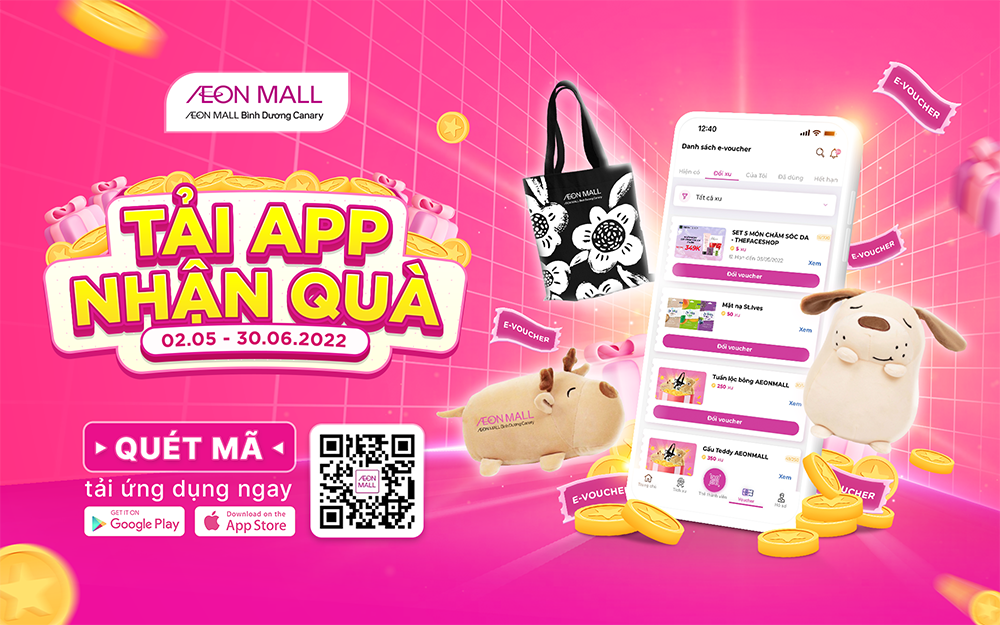 PROGRAM RULES:
Only applicable for app downloads and member registration for the first time at the event venue from 02.05.2022.
AEON MALL VIETNAM application works on phones with Android and iOS operating systems.
Customers must take the following steps to redeem the gift:

Download the AEON MALL VIETNAM APP at the event venue
Draw for gifts
Sign up as a member to receive 20 points to accumulate points

With each new account, customers can only redeem up to 1 gift from the Shopping Center.
Redemption period: from May 2 to June 30, 2022
Customers receive gifts directly at the redemption counter, 1st floor of AEON MALL Binh Duong Canary. AEON MALL Binh Duong Canary will not be responsible for delivering gifts to members.
When participating in the promotion, members agree to provide personal information and AEON MALL Binh Duong Canary has the right to use this information to promote upcoming programs of TTMS.
AEON MALL Binh Duong Canary reserves the right to change the terms & conditions at any time without prior notice.
CONTACT INFO:
Email: canary.marketing@aeonmall-vn.com
Tel: 0274 6259 333 – Ext: 123
See more exciting events HERE!