1. BLACK FRIDAY FIRE SALE
Only 5 days from 23-25.11.2022, at the North Court & Corridor – Ground Floor of AEON MALL Binh Duong Canary, there will be an extremely attractive Lucky Wheel program. With each shopping bill worth from VND 3,000,000 at both Supermarket and Shopping Center areas, customers will participate in the "Jackpot" program and receive a chance to win one of the extremely attractive gifts listed as follows:
AEON voucher set worth 5.000.000 VND, 2.000.000 VND, 1.000.000 VND
AEON MALL tote bag
Diamond water bottle
AEON voucher worth VND 50,000
Special: Frico Multi-cooker valued 7,388,800 VND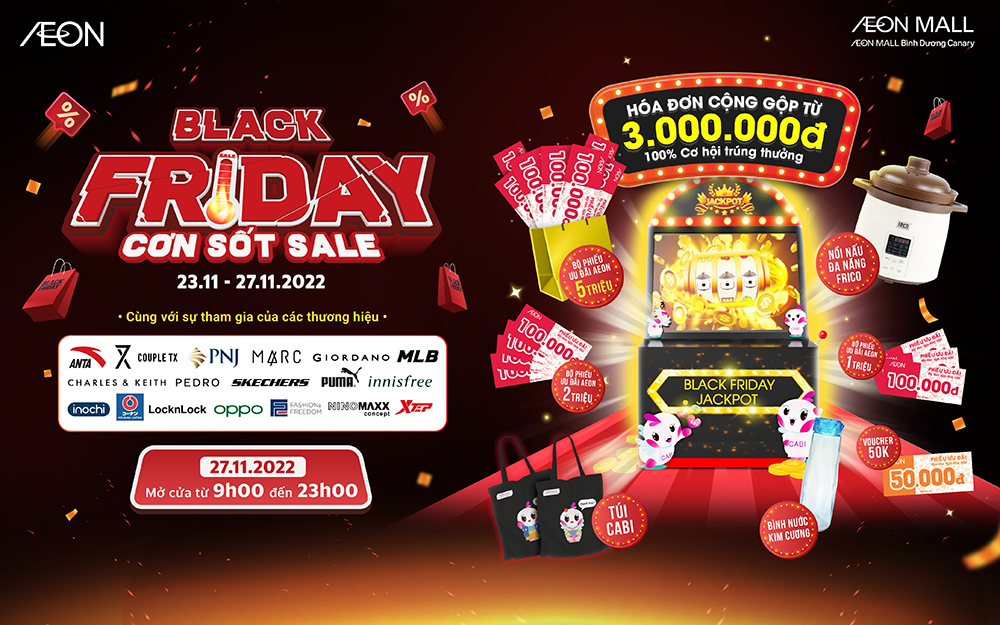 What are you waiting for, just coming to AEON MALL Binh Duong Canary and star hunting sale right now!
* Rules to participate in the program:
Applied for accumulated bills during the day at the Trade Center area or the Supermarket combined with AEON MALL Binh Duong Canary.
Invoice separation of any kind is not applicable.
Each customer can only participate in the lucky draw once a day.
Please bring products or receipts/ID cards for products and services when exchanging gifts.
Employees working at AEON MALL Binh Duong Canary are not allowed to participate in the program.
Management reserves the right to refuse invalid invoices.
For any questions, please contact the Information Counter at Gate D at Ground Floor, AEON MALL Binh Duong Canary or call hotline 0274 6259333
2. IN HOUSE SALE EVENTS
From 23-27.11 at AEON MALL area along the corridor, there will be a sales program with the participation of more than 20 famous brands. Come to AEON MALL Binh Duong Canary now to immerse yourself in the biggest shopping week of the year.
3. WATCH LIVESTREAM RECEIVE GIFTS
In addition to the sales event in the lobby at the Mall, in 2 days,15&25 Nov, there will be livestreams on the fanpage AEON MALL Binh Duong Canary with the participation of big Brands, especially during Black Friday. This event also has the participation of popular accessory brands PNJ, Glam Beautique, Charles & Keith promising to bring many exclusive offers only available on Livestream.
Watch the livestream at the following calendar:
15.11.2022 from 15:00 to 15:30: Teaser of Black Friday event in the lobby
21.11.2022 from 15:00 to 16:00: Livestream at Glam Beautique store
24.11.2022 from 15:00 to 16:00: Livestream at Charles&Keith store
55.11.2022 from 15:00 to 16:00: Livestream to close online orders for exclusive discounts only on Fanpage AEON MALL Binh Duong Canary