Christmas season is coming, let's join AEON MALL Binh Duong Canary to welcome the most memorable holiday season of the year with a series of exciting events below:
INCREDIBLE CHECK IN THE DECORATION CENTER AT CENTER COURT
From 19/11/2022 to the end of 02/01/2023, let's explore CABI's toy factory with sweet experiences and exciting challenges. Check in and save warm memories at the highlights of the decoration cluster such as: Toy factory, Christmas countdown clock, Christmas Bazaar.
CHOOSE CHRISTMAS WEEKEND ACTIVITIES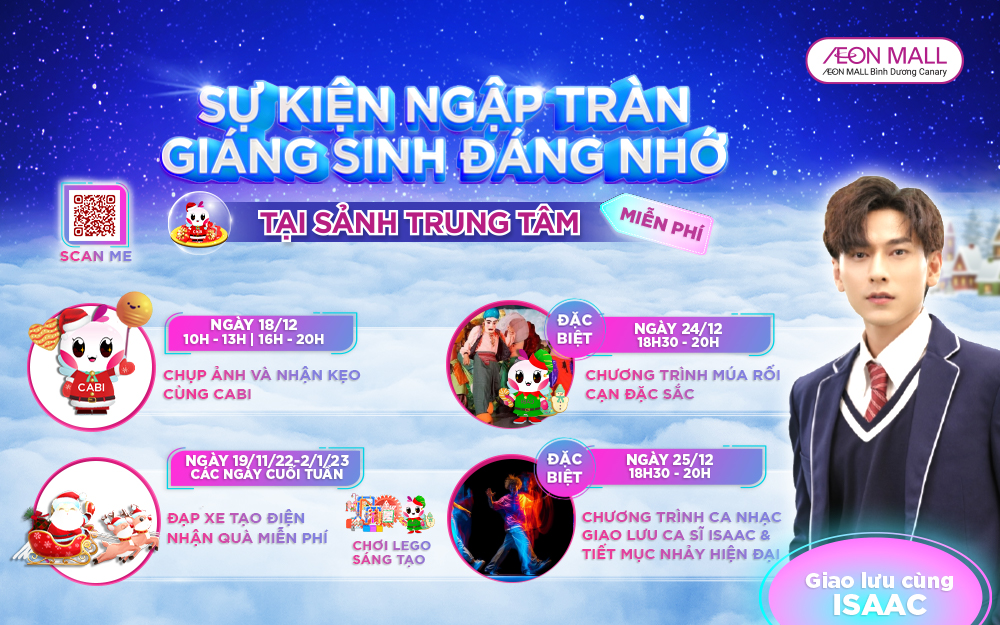 On the weekends of November 19, 20, 26, 27, December 3, 4, 10, 11, 17, 18, 24, 25, 31 and January 1 and 2:
Location: at the decoration cluster of the Central Court – AEON MALL Binh Duong Canary
Children and families can participate in completely free activities at the decoration area such as:
– Cycle to generate electricity, receive gifts
– Play creative LEGO with your baby
Activities combined with décor cluster, electricity generation technology and creative games will surely bring exciting moments of relaxation for kids and the whole family.
1. PICK UP TO GET SUCCESS WITH CABI
Time: from 10:00 a.m to 1:00 p.m  and from 4:00 p.m to 8:00 p.m on 18/12/2022
Children can take pictures and receive free candies with CABI  at the Central Court
2. SAVING CHRISTMAS NIGHT  MUSICAL
At 6:30 pm on 24/12/2022, a special musical will take place at the decoration cluster of the Central Court – AEON MALL Binh Duong Canary
The whole family will be immersed in a magical space of music and light, understand and love more than AEON MALL Binh Duong Canary's CABI character, let's guess with a brave heart what CABI will do to solve the problem and save our Christmas!
3. CHRISTMAS NIGHT
Especially from 18:30 to 20:00 on 25/12/2022, in the Central Court, there will be a Christmas music program with the participation of Singer ISAAC, promising to bring an extremely exciting and attractive night.
Waiting  to this very special night!
Find out more attractive shopping programs HERE!