SHOPPING JOLLY, GET ALL YOU CAN SEE
Welcoming the summer of 2022, AEON MALL Binh Duong Canary is pleased to introduce to customers a huge shopping event of the year. From 10.06.2022 to 10.07.2022 with total bill from 2,000,000 VND at stores in the mall area, you can participate in the lucky spin to receive one of the attractive gifts as follows:
Special prize: 01 Porta plastic suitcase
01 AEON MALL umbrella
01 multi-purpose box
01 E-voucher Food Court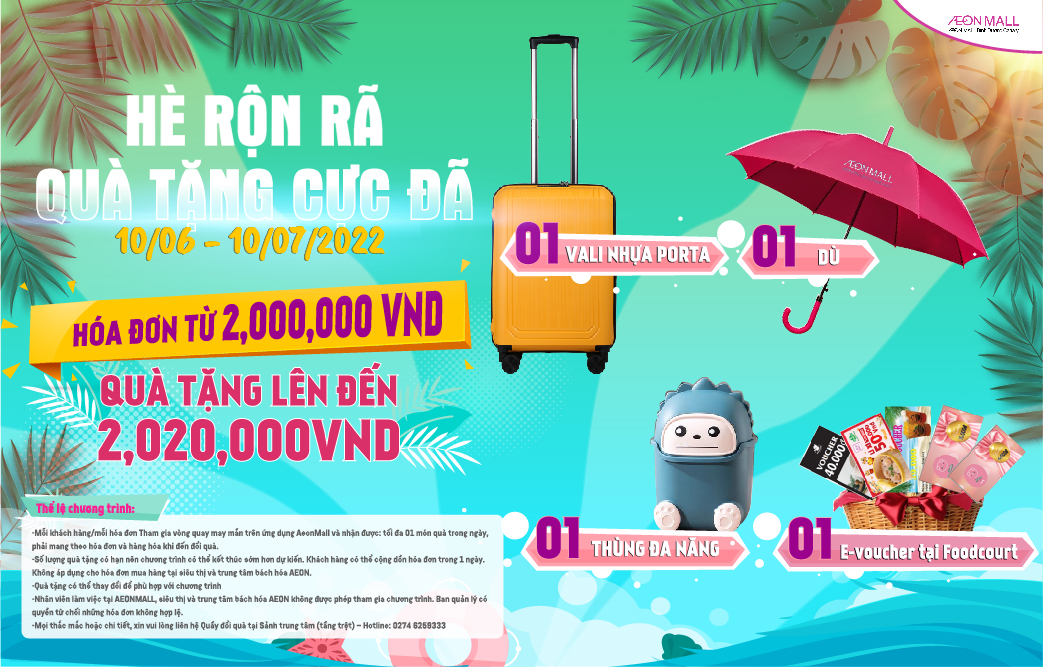 Please kindly be noted that:
– Each customer/invoice can receive up to 01 gift per day (please bring receipt and goods when coming to redeem)
– The number of gifts is limited, so the program may end earlier than expected. Gifts are subject to change to match the program
– Customers can accumulate invoices in 1 day. Not applicable for purchases made at AEON supermarkets and department stores.
– Employees working at AEONMALL, supermarkets and AEON department stores are not allowed to participate in the program. Management reserves the right to refuse invalid invoices.
– For any questions or details, please contact the Redemption Counter in the Central Lobby (ground floor) – Hotline: 0274 6259333
WELCOME 2022 SUMMERS EVENTS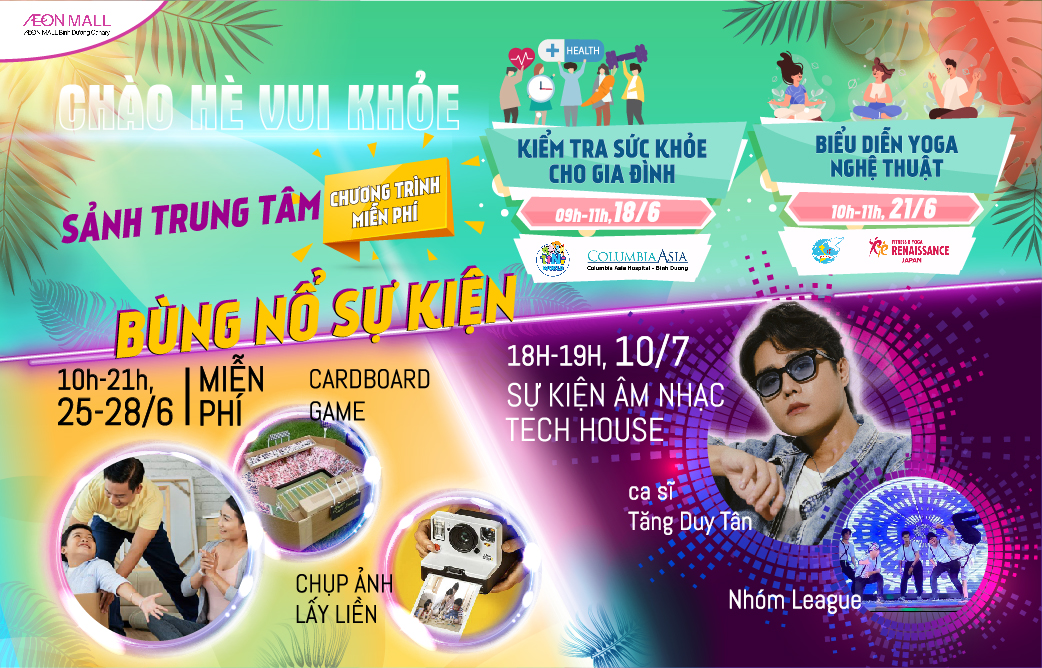 1. FAMILY HEALTH CHECK EVENTS
In order to enhance the importance of regular health check for family and bring practical value to the community, especially young families are increasing day by day in Binh Duong province in general and Thuan An city in particular. AEON MALL Binh Duong Canary is pleased to cooperate with Columbia Asia International Hospital to organize a health checking program for families.
At the event, you can register for a FREE health check for the whole family (Testing sectors:  oblood sugar testing, blood pressure measurement, direct consultation on obesity, high blood pressure, .. ) and health talk show.
– Time: 9 am-11am on June 18, 2022
– Location: Center Court – AEON MALL Binh Duong Canary
– Participation method: customers register via AEON MALL app to participate in the event for FREE
AEON MALL MOBILE APP EVENT REGISTER INSTRUCTION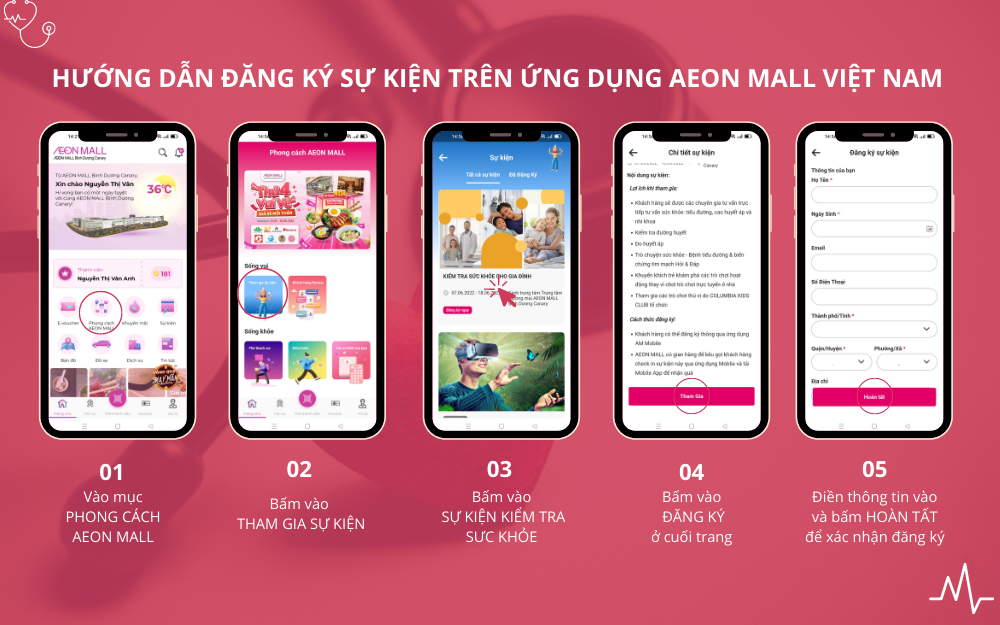 2. EVENTS FOR INTERNATIONAL YOGA DAY
In response to the International Yoga Day, AEON MALL Binh Duong Canary co-organized the YOGA DAY event with Thuan An Women's Union and the Fitness & Yoga Renaissance store, with the hope of providing solutions to improve health, reduce stress, and muscle aches and pains. post-Covid disease in particular and the general health benefits for customers through YOGA
Coming to the event, you can enjoy the performances as well as participate in:
Mini game about Yoga Day
Performing Arts Yoga from the Fitness & Yoga Renaissance Club
Performing from members under the coordination of Yoga Master
Coordinator: Thuan An Women's Union & Renaissance Fitness & Yoga store
– Time: 10am-11am on June 21, 2022
– Location: Decor Area 2nd Floor, in front of Food Court – AEON MALL Binh Duong Canary
4. TECH HOUSE MUSIC NIGHT
The TECH HOUSE Music Festival, with the participation of singer Tang Duy Tan and modern dance performances of the League group, promises to bring you one of the most memorable nights this summer. Please make a note of the show schedule right away, dear customers
– Time: 18:00 – 19:00 on July 10, 2022
– Location: Center Court – AEON MALL Binh Duong Canary
Find out more exciting events HERE!