Freely shopping to receive gifts, double the joy for our whole family to enjoy Tet. All we have to do is buy as much as you want, and let AEON MALL Binh Duong Canary take care of the promotion!
Welcome 2021, join AEON MALL Binh Duong Canary with special promotions, everyone:
🧧From January 9 to February 11, 2021: With invoices from VND 3,500,000, your family will immediately receive a food gift voucher at Food Court or a New Year gift set from L'angfarm store.
🧧More specifically, to celebrate the renewal of AEON MALL Binh Duong Canary, from January 15 to January 17, 2021: draw to win 3 special gifts for only these 3 days – SHARP Air Purifier.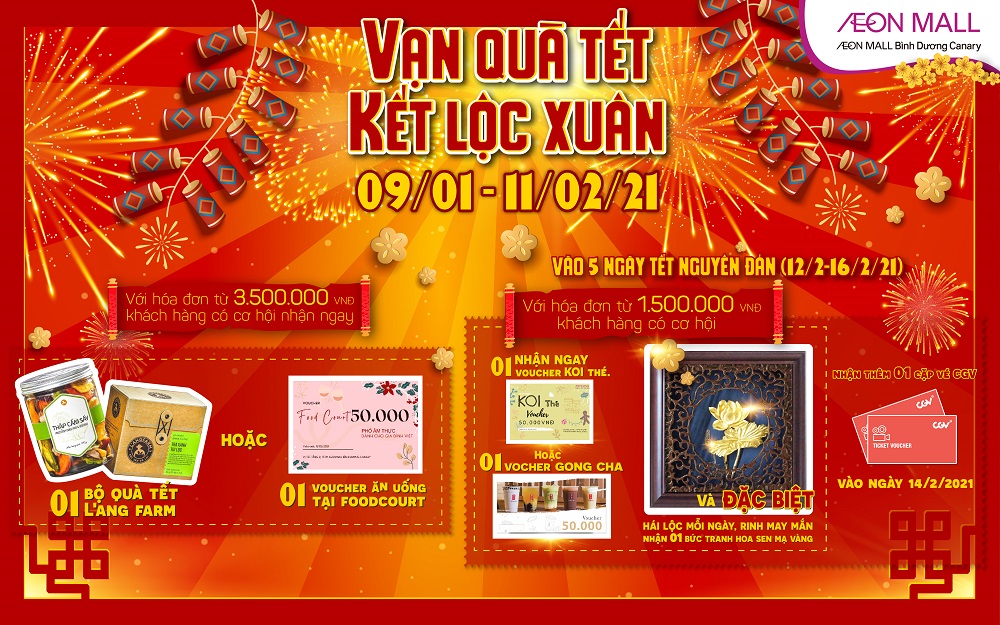 🌸🌸🌸🌸 In addition, the Customers Loyalty program 2021 will start to record information at AEON MALL Binh Duong Canary from January 9, 2021 to July 25, 2021 with very attractive prizes:
🥇 First prize: Honda SH mode 
🥈 Second prize: Luxury furniture set from BeYours and sponsored by Kohnan Japan
📌 Lottery activity will take place on July 25, 2021, remember to take note of it for the whole family to watch!
👉 To join the program, the whole family earn points by joining the 2021 Instant Gift Redeemption program or 5 & 20 Membership Day at AEON MALL Binh Duong Canary!
Each 2 marks on the same ticket will be converted into 01 lucky draw.