In 2011, the earthquake triggered powerful tsunami waves swept the northeastern Japan, wiped out many towns, caused nuclear accidents, and left thousands of people in desperate situation. Accordingly, AEON Group implemented the project of appreciation and sharing knowledge for the future "The Community protected by forest", which has been selected as a Reconstruction Project 10 years after earthquake and tsunami disaster by the Disaster Reconstruction Agency.
With the basic philosophy of "Pursuing peace, respecting humanity, and contributing to local communities, always with the customer's point of view as its core." AEON Group has implemented many projects and activities with the purpose of accompanying and developing with the local community. The project "The Community protected by forest" aims to introduce knowledge and experiences about effective reducing tsunami damage of AEON forests to Asian countries where AEON MALLs locate. This is also an opportunity for AEON to express its gratitude for the support and encouragement from Asian countries when the disaster strikes.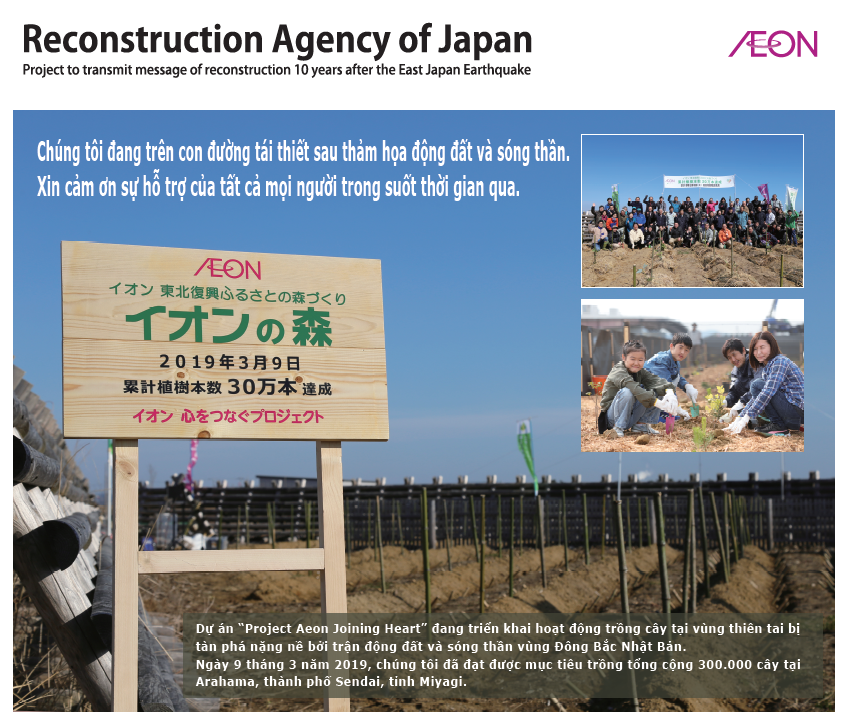 In 2011, the tsunami caused Aeon Tagajo shopping mall in the coastal area to be flooded up to the 2nd floor of the building. However, the green trees which were planted in the program "AEON Hometown Forest" have become a green wall, reducing the strength of the tsunami, so that people living in the vicinity have more time to evacuate. In addition, when the water receded, the green trees with roots firmly attached to the ground, prevented people and objects from being washed away, helped to protect property and people's lives.
Towards the "World Tsunami Awareness Day" (November 5th) proposed by the United Nations, AEON Group continues to conduct the project "Introduce effective forests to mitigate damage caused by tsunami" with the aim of reaching about 30 million customers in 6 Asian countries from 23rd October 2020.
Together with Malaysia and Thailand, in Vietnam, AEON Group has scheduled the event at AEON MALL Tan Phu Celadon – Ho Chi Minh City on November 1, 2020 to promote this project with many meaningful and attractive activities.
Trees growing from the forests, protecting people after the storm equals to a new community is regenerated, nurtured, and developed. AEON Group wishes to express the deepest gratitude to the local people for always supporting and encouraging, so that we can gain more strength and bring better values to the community.