For a long time, Japan has been attracting many tourists' attention by Japanese friendliness, exquisite traditional cuisine with modern shopping and entertainment areas. For each Japanese family, going shopping at shopping centers has become an integral culture of modern life. Therefore, AEON MALL is the first choice of the people living in this "sunrise" country.
And now, instead of flying to distant Japan to meet your shopping and recreation needs, to enjoy the culinary elite from the leading prestige brand chosen by Japanese families – AEON MALL officially appeared at Binh Duong Canary urban area on November 2014.
With more than 250 years operating in Japan, the leading prestige brand AEON understand even the smallest needs of customers when reaching for a smart and convenient life. From the first period opening the Group, the heads chose "AEON" – a word derived from the Latin word meaning "Eternity", hoping to be with the majority of consumers for a long time. And when coming to Vietnam, in addition to bringing excellent service maintained for over 2 centuries, AEON MALL also would like to recommend another new meaning of the familiar name "AEON" – Giving customers a good living standard, convenience as well as long-term commitment to the local community.
As General Director of AEON Vietnam said: "We build AEON shopping malls not only to sell products, but we also aim at a higher purpose: Satisfying people's needs by giving a lot of convenience to make them feel comfortable the most". Until 2025, AEON MALL plans to build 20 malls in Viet Nam and AEON MALL located in Canary residential area in Binh Duong province is the second mall in AEON shopping mall chain.
With the area of over 70.000 m2, AEON MALL Binh Duong Canary is a complex with perfect utilities for family such as: supermarket, cosmetic stores, fashion stores, furniture stores, restaurants, cinema, children's amusement areas, bowling, Maths center, fitness center, etc.., along with more than 116 stores proving high-quality products and an unique food court with traditional Japanese cuisine.
By taking care of every small detail to create the most comfort for all customers, AEON MALL Binh Duong Canary was, is and will be a perfect choice for every Vietnamese family's need, bringing new shopping, entertainment and food experience in a Japanese space right in Vietnam.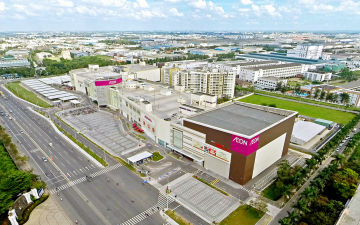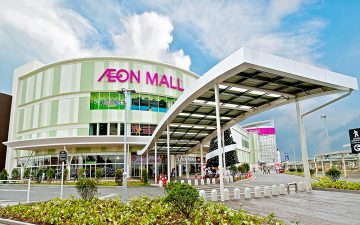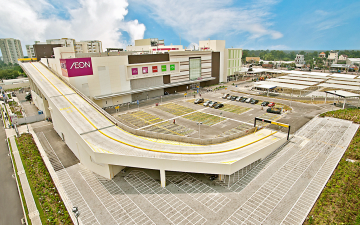 Name
AEON MALL BINH DUONG CANARY
Address
No. 01, Binh Duong Boulevard, Binh Giao Quarter, Thuan Giao Ward, Thuan An Town, Binh Duong Province
Number of stores
Approx. 120 special stores
Site area
Approx. 62,000 ㎡
Floor area
Approx. 70,000 ㎡
Gross leasable area
Gross leasable area: approx. 46,000 m2
Vehicle parking capacity
Approx. 1,000 cars
Bicycle and motorcycle parking capacity
Approx. 6,000 two-wheeled vehicles
Holiday

- 7 days a week
- 10:00 – 22:00 (Weekdays)
- 09:00 – 22:00 (Weekends and Holidays)
- Some stores have different opening hours

Number of employees
For whole shopping center: Approx. over 2,000 employees
(AEON Binh Duong Canary: Approx. 600 employees)