Dear valued customers!
With our purpose of guarantee customer's health and prevention of Corona virus with Department of Health in Binh Duong, AEON MALL Binh Duong Canary would like to announce as follows:
Customers should be wearing a mask, clean your hand with alcohol-based hand rub or soap (within 20 seconds)
Go to the hospital or health facility when you have the following symptoms:
Fever, cough, shortness of breath and body temperature check is over 37.5°C
Direct or indirect contact with infected people within the past 2 weeks.
Returning from Wuhan or other countries now have been identified as infected within 2 weeks.
3. The main routes of transmission of Corona influenza according to information from the Ministry of Health
Spreads through the air: Contact with saliva from people coughing, sneezing, then the virus enters the respiratory tract
Direct transmission when contacting with sick people, shaking hands when not taking preventive measures such as hand washing …
Spreads by contact with contaminated surfaces such as wood, stone, iron, steel, and cloth.
Transmitted through the body's waste, mainly by taking care of the sick
Currently, all the entrance gates of AEON MALL Binh Duong Canary, we have provided the area for free alcohol -based hand rub for customers to use during the shopping: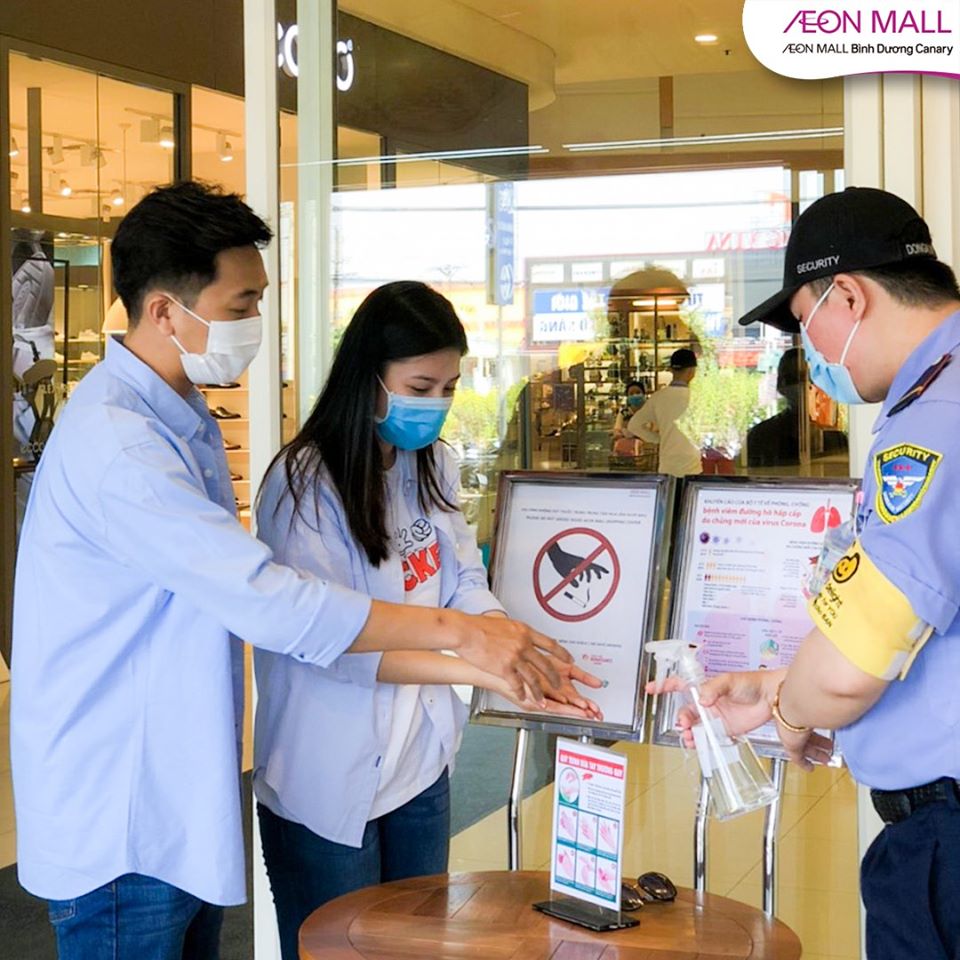 And, for the convenience of customers in the process of purchasing medical masks and antiseptic alcohol solutions for personal and family use, AEON MALL Binh Duong would like to send the contact information of stores who are currently trading in these items to make it easier for customers to buy:
KOHNAN JAPAN Store – Address: No. 15A , 1st Floor – Tel: 0274 3799948
MEDICARE Store – Address: No. 3 Ground Floor – Tel: 0274 6260717
CENTURY Store – Address: No. 3B, 1st Floor
And, AEON supermarket area – Tel: 0274 6259111
☎ For advice and a better understanding of how to prevent Corona virus disease, please contact the hotline number as follows:
💊 Doctor Huynh Thanh Ha – Deputy Director of Department of Health. Telephone: 0913 660 861
💊 Doctor Huynh Thi Nguyet Phuong – Director of Thuan An Medical Center. Telephone: 0918 695 518
See more at https://bit.ly/2Us5siY to join hands with the Binh Duong Department of Health to prevent Corona disease.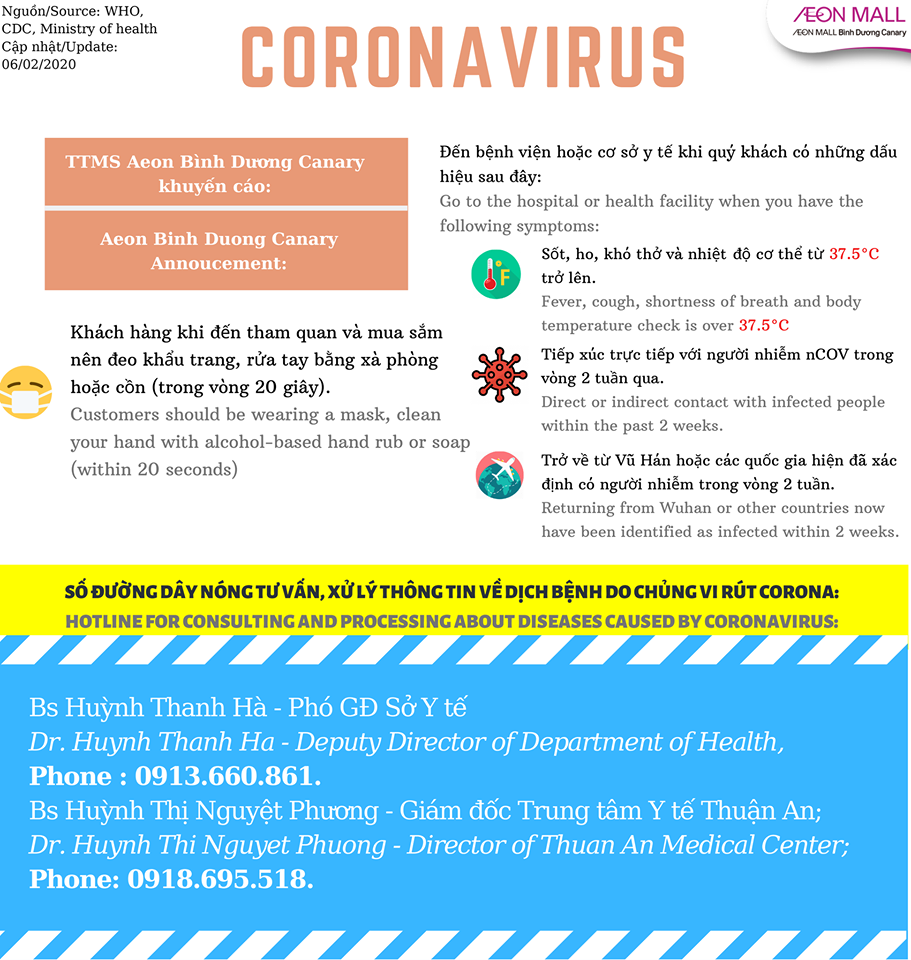 Warmly Regards,
SC AEON MALL Binh Duong Canary