World Environment Day (June 5) was launched by the United Nations Environment Program (UNEP) and has been responded to by Vietnam since 1982. With the desire to contribute to raising people's awareness of environmental protection, biodiversity conservation, sustainable development and climate change response, AEON MALL annually organizes a series of special events specially to celebrate this day.
In 2023, with the theme "BATCH WASTE, PROTECT THE FUTURE", the series of events includes the following main activities:
1. PLANT FESTIVAL
Taking place on May 20, 2023, with the participation of 250 volunteers, including AEON MALL staff and shops, children from ILA English Center, Youth Union members in Binh province. Duong, Skybridge, Mercedes and the Canary community have come together to create a new green space.
Time: May 20, 2023
Location: south campus outside TTMS
No photo description available.
2. CHANGE BATTERY RECEIVE BOOKS ONLY
In order to raise awareness about the proper collection, classification and disposal of used batteries in the community, as well as join hands to protect the green of the Earth, AEON MALL Binh Duong Canary with the companion of the House Phuong Nam Book has successfully organized the second program to change PIN to receive BOOK – in 2023
When bringing in 10 used batteries, customers immediately receive a valuable book from the program.
This is not only a way to promote recycling and protect the environment, but also an opportunity for you to discover more knowledge and new experiences through fascinating books.
Time: May 27 – June 4, 2023
Location: Central lobby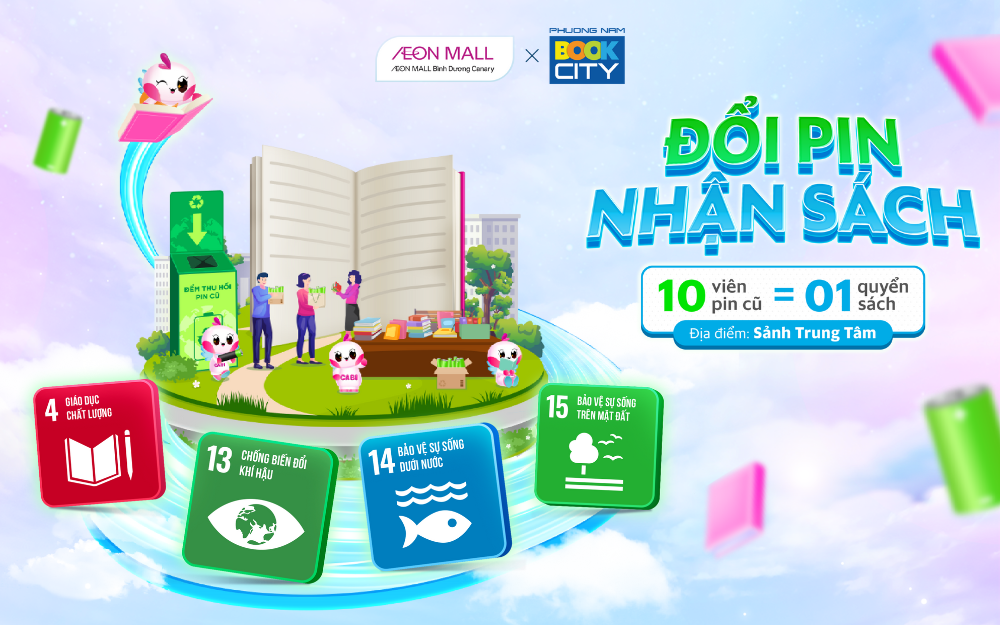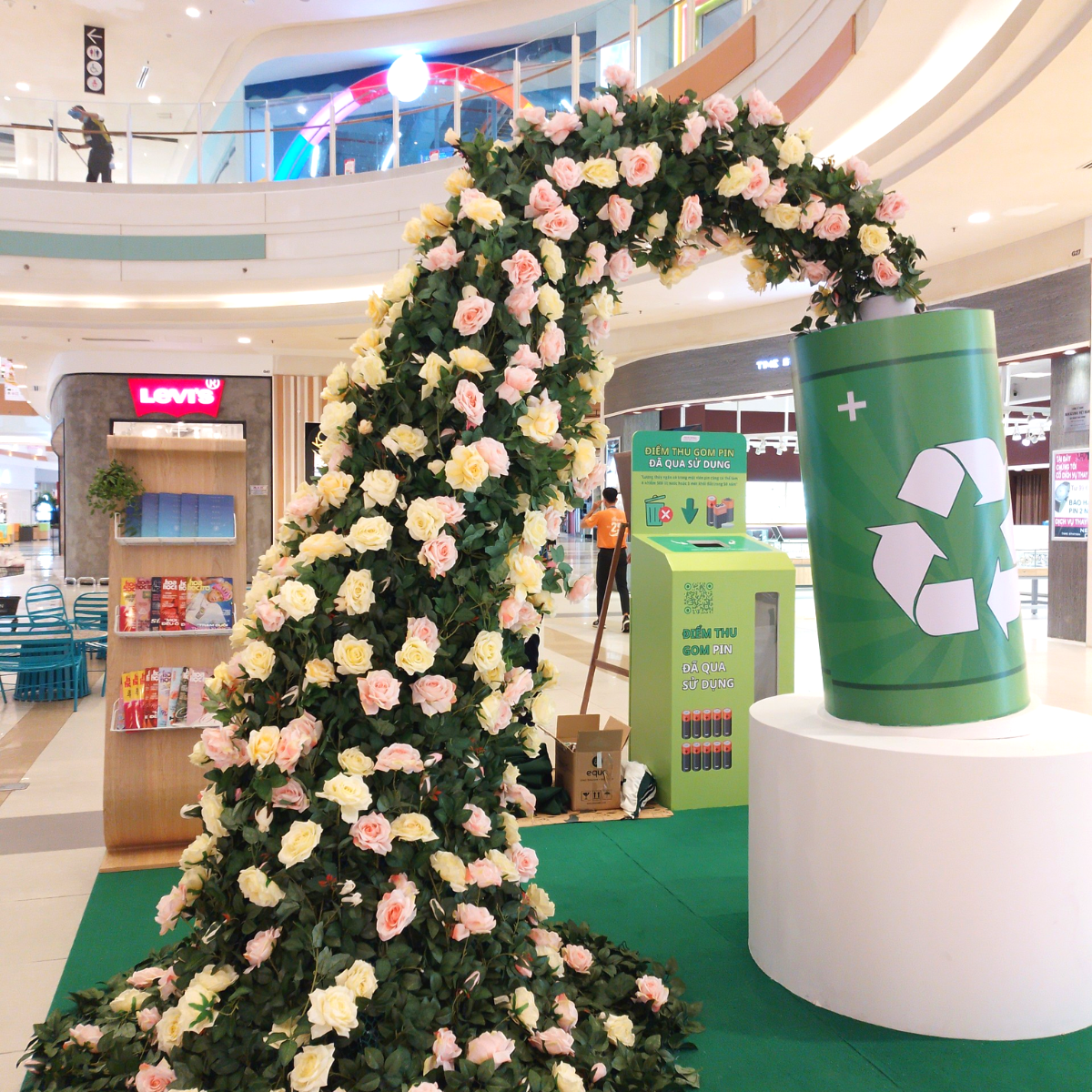 3. PAPER BAGS FLASHING ACTIVITIES
Cooperate with Binh Duong youth union members and Tetra Pak and Corelex units.
Coming to this year's festival, customers can participate in the paper bag folding activity – receive the finished product immediately and a small gift from the program. The paper used in the paper bag folding festival is recycled from beverage cartons sponsored by Tetra Pak. Use recycled paper bags to reduce the use of plastic bags and reduce plastic bag waste into the environment.
Time: May 27 – June 4, 2023
Location: Central lobby
4. ACTIVITIES FOR CHARGES FOR GIFTS AND GAMES ON RECYCLING
AEON MALL Binh Duong Canary cooperates with recycling units including Tetra Pak, FEPV, ECO Vietnam, Corelex, AEON Delight, AEON Vietnam to respond to World Environment Day 05.06.2023
Coming to ECO EVENT 2023, you can participate in many interesting activities every day such as:
🌿 50 clean treated paper beverage boxes in exchange for notebooks/toilet paper
🌿 15 PET bottles can be exchanged for 1 pair of cute recycled plastic socks
🌿 15 or more aluminum cans can be exchanged for 01 cloth bag / hat / thermos cup
Participate in challenges, minigames and check-in photos at booths to receive attractive gifts such as aluminum can pressing challenge, waste sorting minigame, etc.
Time: May 27 – June 4, 2023
Location: North Hall
Could be a picture of 1 person and text that says 'KEEPING FUTURE /EON CિFA /EON MALL 05.06.2023 /EON MALL Binh Duong Canary AEON /EON MALL MALL FUTURE WASTE RECYCLE 27.05 -05.06.2023 LOCATION: AEON MALL BINH DUONG CHAINHA Made from BIGBANG ACTION GET A GIFT FROM TETRA PAK 03 WAYS TO JOIN the complete game HOW: check-in picture with vhop hashtag #EcoEvent2023 #Taichevohopgiay #TetraPak CLASSIFICATION OF TRASH #Taichevohopgiay WAY3: do well hashtag game EcoEvent2023 Complete'
5. GREEN SUNDAY
Combined with the Thuan An City Youth Union and people in other areas, the Green Sunday program took place with the participation of nearly 200 volunteers. Activities that bring many meanings to the environment such as: cleaning and picking up trash around residential areas and schools, distributing appropriate trash bins, clearing grass, cleaning sewers, sorting collected garbage, etc.
Time: May 28, 2023
Location: Thuan An City Children's Cultural Palace
6. ENVIRONMENT DAY EVENTS
In celebration of World Environment Day, the Environment Night at AEON MALL Binh Duong Canary will take place with many Minigames giving attractive gifts, talk shows from FEPV recycling unit, the final round of Recycled Fashion Contest New vitality from waste materials, and music program with the appearance of singer ambassador Mai Chi Cong.
Time: 04.06.2023
Location: Central lobby
7. WASTE COLLECTION AND CLASSIFICATION AT SOURCE
The program of Collecting and exchanging gifts at 8 points in Bau Bang district aims to encourage and raise the awareness of properly classifying waste for people in this area.
Time: 05.06.2023
Location: Bau Bang district